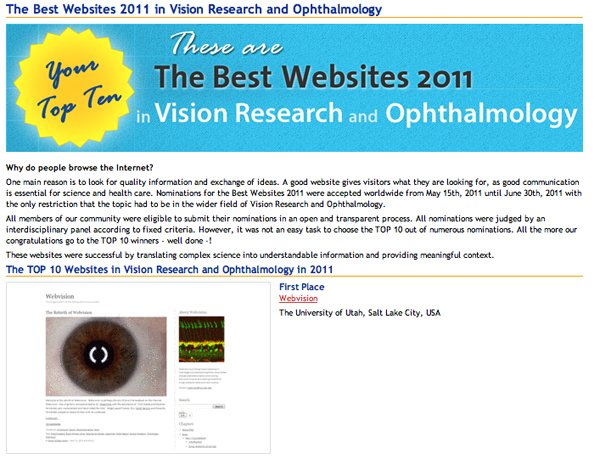 Webvision has just been voted First Place in the TOP 10 Websites in Vision Research and Ophthalmology.  Second place went to the Atlas of Ophthalmology, Third to the National Eye Institute, Fourth to European Vision Institute, Fifth to the Institut de la Vision, Sixth to Foundation Fighting Blindness Canada, Seventh to The Nuffield Laboratory of Ophthalmology, Eighth went to Association for Innovation and Biomedical Research on Light and Image, Portugal (AIBILI), Ninth went to the International Council of Ophthalmology and Tenth Place went to RETNET.
Our thanks to those in the vision research community that voted for Webvision and our congratulations to the other ranked websites.  We hope to continue providing this service to the vision community for many years to come and thank everyone for visiting and providing your comments and feedback going back to 1995 when Webvision originally went live.
As a note on accessibility in other languages, there is an abbreviated Spanish version of the book portion of Webvision hosted here and because Webvision is structured with W3C standards, Webvision can be translated to any other language supported in Google's Translate.