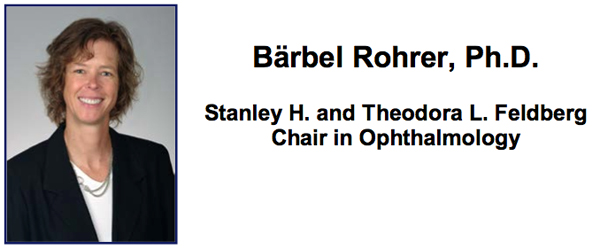 We here at Webvision are deliriously happy to report that our good friend and colleague, Bärbel Rohrer was just appointed the Stanley H. and Theodora L. Feldberg Chair in Ophthalmology at Medical University of South Carolina.  Many congratulations to her and we'll look forward to congratulating her in person when she comes to visit us to deliver a talk in March.
What follows is the text from the program of her appointment:
Bärbel (Barb) Rohrer, Ph.D. is a graduate of the University of Tübingen, Tübingen, Germany, with a diploma in Biology/Cybernetics. Dr. Rohrer received her doctorate degree from the University of Calgary in Visual Neuroscience, where, in William K. Stell's laboratory, she was the first to examine the role of neurotransmitters and local growth factors within the eye in the control of myopia. She then completed postdoctoral studies in Neuroscience at the University of California at San Francisco with Louis F. Reichardt, establishing the groundwork for her studies on neuroprotective agents in retina development and disease. She has been at MUSC since joining the faculty in 2000, with dual appointments in Ophthalmology and Neurosciences.
Her early work at MUSC led to the discovery that multiple, common pathways with different temporal patterns are activated during retinal degeneration, regardless of the underlying cause of ocular disease. These findings are important since they allowed Dr. Rohrer and her colleagues to focus on identifying potential rescue factors for common gene targets, rather than for individual genes.
Based on these observations, the Rohrer Lab is focusing on the analysis of two pathways: complement activation and mitochondrial metabolism. Increased complement activation and decreased mitochondrial respiration are a hallmark of many different diseases, but Dr. Rohrer's efforts are focused in particular on age-related macular degeneration (AMD) and retinitis pigmentosa (RP).
Results from these two projects have contributed to the development of patented compounds. The patent on an inhibitor of the complement cascade is licensed to Taligen Therapeutics/Alexion Pharmaceuticals; and the first patent on a pharmacophor to increase mitochondrial capacity, to MitoChem, a company that Dr. Rohrer and her collaborator Craig Beeson have recently founded.
Dr. Rohrer's projects have been successfully funded by grants from the National Institutes of Health, National Eye Institute; a Veteran Affairs Merit Award; industry funding; philanthropic monies; and a Translational Research Acceleration Award from the Foundation Fighting Blindness. Retrospectively, she obtained the 2002 Vision Research Grant of the Karl Kirchgessner Foundation (2002); was named the RPB Olga Keith Wiess Scholar (2005), and was awarded the Hope for Vision Research Award (2007).
Dr. Rohrer has been a mentor to over 30 undergraduate, graduate and medical students, and postdoctoral fellows who have gone on to research positions around the world. Her work has been published in five book chapters, over 60 peer-reviewed publications, and she has been a contributing author to two books on retina degenerative diseases. She has been an organizer, moderator, and panel participant on four important platform sessions and symposia at ARVO, and often receives invitations to speak about her work from students, colleagues and conference organizers in the U.S. and abroad.
The Stanley H. and Theodora L. Feldberg Endowed Chair in Ophthalmology was established in 2006 by Theodora Feldberg who wanted to see the great work in ophthalmology at Storm Eye Institute continue in perpetuity. From their first gift to MUSC in 1990, the Feldberg's have been amongst the strongest supporters of Storm Eye Institute and MUSC.
The first Feldberg fund was created in 1995 with a gift from Mr. and Mrs. Feldberg to honor Mr. Feldberg's parents. In 1996 the Feldberg's, through a major gift to Storm Eye Institute, created the Feldberg Vision Rehabilitation Center to help patients learn how to utilize their remaining vision to its maximum potential.
So concerned were the Feldbergs that the people of South Carolina have access to treatment for low vision, they established the Stanley and Theodora Feldberg Endowment Fund for Vision Rehabilitation in 2001 to ensure there would be funds to treat these patients.
In recognition for their involvement in Storm Eye Institute and MUSC, the University bestowed an honorary degree to both individuals.
Stanley Feldberg served on the board of Storm Eye Institute from 1994 until 2003 and led the board as Chairman for two terms. "Stanley felt strongly that academic medical centers represented the best in American medicine and that they needed support and encouragement. Both he and Mrs. Feldberg recognized that major discoveries in medicine had come and would come from these centers," said Dr. Wilson, Director of Storm Eye Institute at the time.
Dr. Wilson added that Mr. Feldberg played an important role in promoting the Institute's reputation as one of the world's leading ophthalmology centers. "When Stanley stated that MUSC and Storm Eye Institute were world class, people listened. His knowledge of and association with the nation's best academic medical centers gave his praise and pride in our organization real credibility," said Dr. Wilson.
Theodora Feldberg served on the Health Sciences Foundation Board from 1992 until 2001 when she became an Emeritus member. She now serves on the Storm Eye Institute Board of Directors where she is a member of the Governance Committee.
In 2006 Mrs. Feldberg established the Stanley H. and Theodora L. Feldberg Endowed Chair in Ophthalmology. She realized the importance of retaining high caliber clinicians as a key factor in a world class eye institute. In 2007, Mrs. Feldberg, her daughter Margery, and son Mark, pledged funds to make the Feldberg Chair even more significant. "Teddy is always looking for ways to enhance the reach and prestige of Storm Eye Institute. Without Teddy Feldberg, Storm Eye Institute would not be as successful as it is today," says Dr. Wilson.