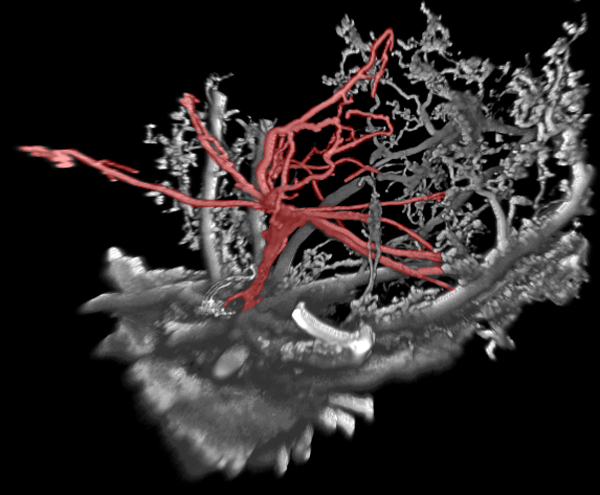 This paper from Toshihide Kurihara, Peter Westenskow, Tim Krohne, Edith Aguilar, Randy A. Johnson, and Marty Friedlander propose a model for the transition from embryonic to adult circulation in the eye  using a combinatorial gene deletion approach with over expression assays, examining astrocyte-targeted deletion of von Hippel-Lindau tumor suppressor (Vhl), hypoxia-inducible factor-αs (Hif-αs), and VEGF on normal regression of hyaloid vessels which are transient fetal vessels in the eye that can be seen in the second and early third trimester of human pregnancy. 
The authors argue that it is a very good disease model for human persistent hyperplastic primary vitreous (PHPV) and furthermore that retinal astrocytes respond to hypoxic cues to control macrophage infiltration which kills and clears out the hyaloidal vessels.
This image is a corrosion cast of a mouse eye with persistent hyaloidal vasculature.  The pseudo colored red vessels are hyaloid that normally regress by P30-P40 in mice.  It was made by mixing plastic with a fluorescent pigment before perfusion in mice.  Once the soft tissues were dissolved away the authors dissected away the ocular vasculature and imaged it on a confocal microscope, generating a 3D image.