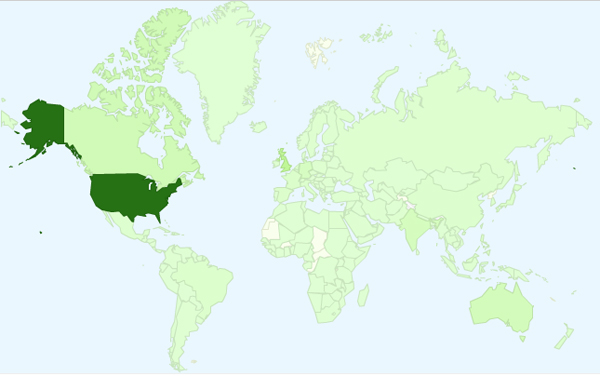 2011 was a big year for Webvision.  We moved servers to a new MacPro, served up one million pages, underwent a major redesign in April by moving the database onto WordPress platform, and started the blog portion of Webvision in addition to the traditional chapter content that has made us so popular.
Speaking of popularity, Webvision serves up traffic to essentially the entire world.  The image above is a traffic density map of the traffic from countries around the world.  The only places on the planet that did not have visitors to Webvision last year were Tajikistan, Kyrgistan, Mauritania, Faso, Chad and the Central African Republic, all countries not known for their Internet connectivity.  Perhaps next year we'll get some more visitors from those parts of the world.  Most of the traffic to Webvision came from the United States, followed by the United Kingdom, Canada, Australia, India, Germany, Philippines, France, Spain and Brazil.  With the redesign and redeployment onto WordPress, its made it easier for people around the world to use real time translation to render the pages here in pretty much any language on the planet.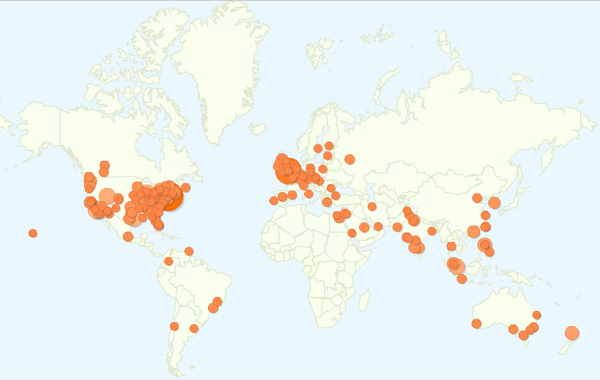 The top 10 major cities bringing traffic to Webvision in 2011 were New York, London, Sydney, Chicago, Los Angeles, Melbourne, Houston, Salt Lake City and Singapore (Manila if you exclude the large amount of traffic that comes to Webvision from its host city, Salt Lake).  Other large cities are also represented with San Francisco, Seattle, Auckland, Seoul, Beijing and Hong Kong.
Interestingly, Internet Explorer was shockingly the most commonly used browser at 31% followed by Firefox 28%, Chrome 19%, Safari 17%, then an assortment of other browsers.  Platforms were represented in the following breakdown:  Windows 73%, OS X 21%, iOS 3%, Linux 2%, then a smattering of other operating systems.  I started keeping track of the Internet statistics for Webvision back in 2000 and its been a really interesting to watch as Apple Inc. has clawed their way back to marketshare from less than 5% 10 years ago to over 21% now.  If you consider that iOS is essentially OS X, that share goes up another 3 percentage points.
Speaking of mobile space, the Apple iPhone is the most commonly used mobile device to access Webvision followed by the Apple iPad and iPod Touch.  From there it drops off pretty precipitously with an assortment of devices (HTC EVO 4G, Motorola DroidX, Sony Ericsson LT15i, HTC Incredible and Verizon Droid).  We will see what the next year will bring, but I expect that the continued explosion in the mobile space will see that traffic either replacing of supplementing web traffic from traditional platforms.  As mobile devices push further into society, perhaps we'll start seeing more traffic from places where network connectivity for mobile devices is more pervasive.
In terms of the most popular Webvision content, the simple anatomy of the retina followed by the main page, then content under the anatomy of the retina, perception of depth, the primary visual cortex, visual acuity, gross anatomy of the eye, color perception and light and dark adaptation with a fairly close mix.
Thank you for your traffic, feedback, comments and suggested content.  We hope that Webvision is helpful to students and all those looking for information on vision and we look forward to continuing to provide useful content for years to come.