The image that is used for the avatar here on Webvision has been awarded first place in the journal Science and the National Science Foundation's Science and Engineering Visualization Challenge for 2011 (video with interviews here).
I posted this over on Jonesblog along with some links that I'll update in the coming days with articles online and in the print media about the announcement.  So far, the image will show up in The Smithsonian Magazine in March, its been on NPRs Science Friday, the National Geographic website, Wired, Popular Science, Popular Mechanics, Science and the Washington Post as well as MSNBC, io9, Mother Nature Network, CNET, The Guardian UK, the Huffington Post and of course our own UofU news site among many others.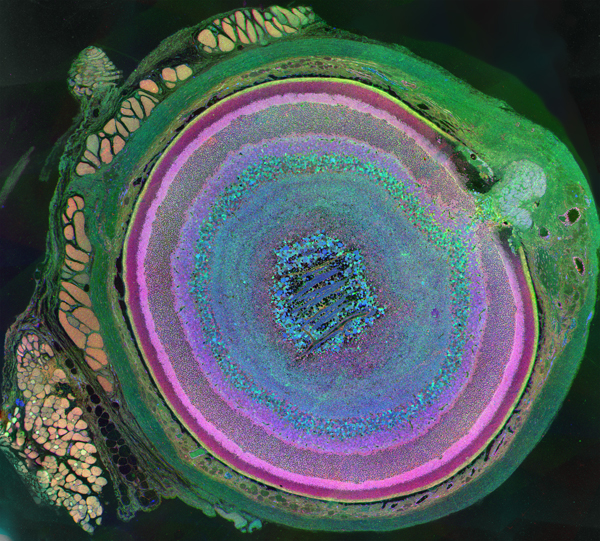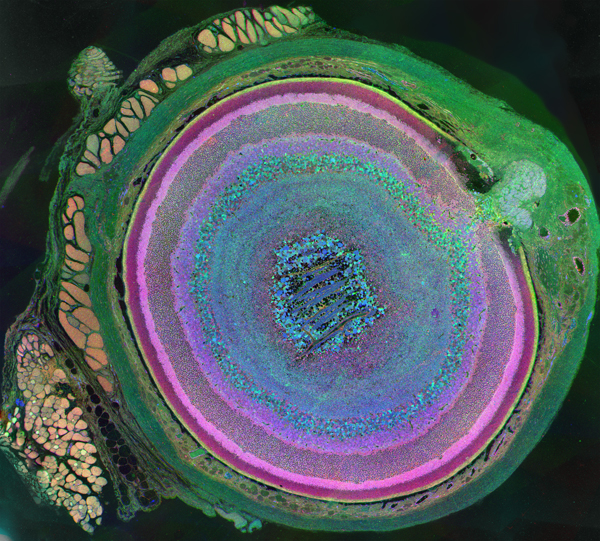 This image is the retina of a mus musculus, probed with antibodies to three small molecular labels from Signature Immunologics. Anti-taurine, anti-glutamine and anti-glutamateassigned to red, green and blue color channels respectively were used for this image from a 7 channel dataset. This image shows two fundamentally important things about metabolomics: 1) Diversity of metabolomic signatures across cell classes is extensive and in this case, it shows how complex the retina is. 2) Within cell classes, metabolomic envelopes are very narrowly constrained in healthy tissue.