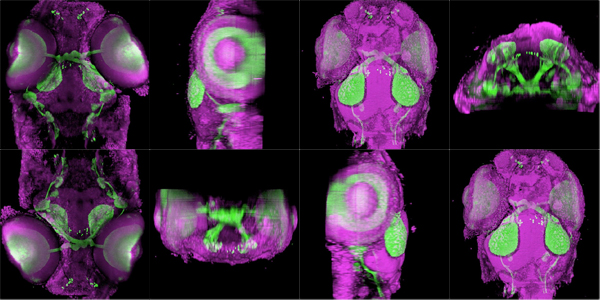 The Chi-Bin Chien Award has been established by the zebrafish research community and Genetics Society of America in memory of Dr. Chi-Bin Chien (1965–2011). Chi-Bin was Professor of Neurobiology and Anatomy at the University of Utah and served the international zebrafish community in numerous ways, including as Director of the Zebrafish Neural Development and Genetics Course at the Woods Hole Marine Biological Laboratory and organizer of the International Conference on Zebrafish Genetics and Development. 
The Award will celebrate Chi-Bin's enthusiasm and love for the discussion of scientific ideas and the good things that grow out of interactions and open discourse among scientists, his efforts to mentor and support the development of young scientists, and the collaborative and generous spirit with which he contributed to the advance of research with the zebrafish.
The award will be given to an outstanding graduate student, postdoctoral trainee, or recently appointed faculty member from any country whose significant contributions to the field of zebrafish research exhibit the generosity and openness that characterized and motivated Chi-Bin. The awardee will be granted a cash award and international recognition as an invited speaker at the bi-annual International Conference on Zebrafish Development and Genetics.
This Chi-Bin Chien Award is funded by donations from members of the scientific community who wish to contribute in Chi-Bin's memory. Please make your tax-deductible contribution via the Genetics Society of America or by sending a check to: Genetics Society of America, 9650 Rockville Pike, Bethesda, MD 20814-3998 USA (please add 'Chien Award' to the memo line).
Image credit: Chi-Bin Chien.  This is a mosaic of images taken from a movie sent to me by Chi-Bin Chien for a group presentation we made a couple years ago.