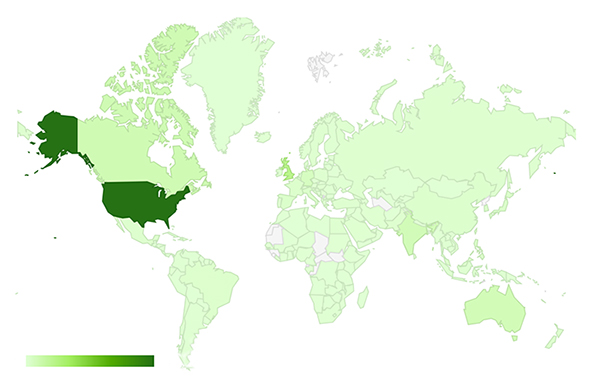 Last year we started a tradition here on Webvision of summarizing some statistics of traffic to Webvision to give you some idea of who the users and visitors are.  While 2011 was  a year of major infrastructure change to Webvision with a complete replacement of the database backend and a move to hosting with a WordPress based platform, 2012 was a year of steady growth, updates to many existing chapters and the addition of 2 new chapters on Retinal Ganglion Cell Dendritic Structure And Synaptic Connections by Ning Tian, and Glycine Receptor Diversity in the Mammalian Retina by Silke Haverkamp and a chapter on Visual Evoked Potentials by Don Creel.
Webvision serves data up to almost every country on the planet as seen from the traffic density map of the world above.  Most traffic to Webvision comes from the United States, followed by the UK, Canada, India, Australia, Germany, the Philippines, Japan, Spain and Italy for the top 10.  Australia moved up a spot.  France and Brazil dropped off the top 10 to be replaced by Japan and Italy which might reflect those countries increased funding of the sciences…  That is just speculation of course.  The interesting thing here is that Webvision is actively being translated into various languages essentially real time using Google's Translation service which really is amazing.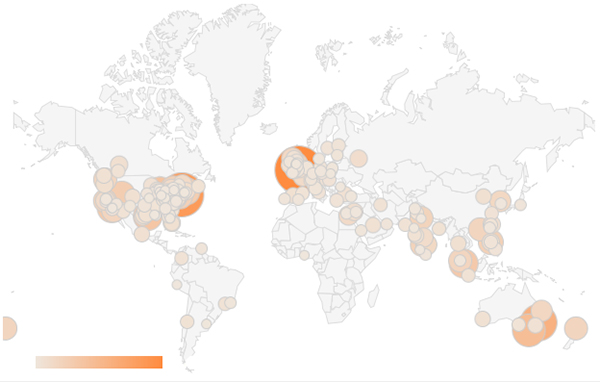 The top 10 major cities bringing traffic to Webvision in 2011 were London, New York, Sydney, Melbourne, Chicago, Houston, Singapore, Los Angeles, Boston and Manchester.  Other large cities are also represented with Toronto, Philadelphia, Bangalore, New Delhi, San Francisco, Auckland and San Diego.  London and New York swapped places in the ranking and Australian cities moved up compared with last year which may correspond with some moves of faculty to Australia that we know of, but also increased vision research funding in Australia vs. the year before.
Overall traffic on Webvision increased by 100,000 visits year over year from 2011 to 2012 with an equal increase in pageviews.  Bounce rates decreased .5% and new visits vs. returning remained the same.  Some of the tech statistics are really interesting.  Comparing to last years numbers, the operating system stats are Windows at 68%, down from 73%, OS X at 22%, up 1% from last year and iOS at 5.7%, up 2.7%% from last year.  Essentially all of this traffic seems to be coming out of Microsoft's market share.  For browsers, Internet Explorer fell from #1 to #3 at 23% behind Chrome at 29% and Firefox at 24%.  Safari came in at 19.6%, up 2% from last year.
Mobile devices continue to increase their share of traffic to Webvision and appear to be dominated by iOS devices including the iPad, iPhone and iPods.  Sony Ericsson and Samsung Galaxy S along with HTC EVOs bring up the last couple of percent.
In terms of the most popular Webvision content, we have a repeat of last year with the simple anatomy of the retina followed by the main page pulling in the most traffic followed by content under the anatomy of the retina, perception of depth, the primary visual cortex, visual acuity, gross anatomy of the eye, color perception and light and dark adaptation with a fairly close mix.
For the future, I have another chapter on retinal remodeling that Helga has asked me to prepare and perhaps another couple of chapters are in the works from other authors.  I'll get back to the 100 papers in vision science you should read.  And as always, we are always interested in hearing from you and receiving imagery and suggestions for articles that are of interest to the vision community.  I can't keep up on everything, and Webvision is better with your participation.
As always, thank you for your traffic, feedback, comments and content.  We continue to hope that Webvision is a useful resource to the community.  Its always rewarding to see content from Webvision appear in conferences and good to hear from individuals that ask permission to reproduce content in their dissertations, posters and presentation.  Please continue to work with us to make the content here on Webvision useful now and in the future.
Happy New Year.