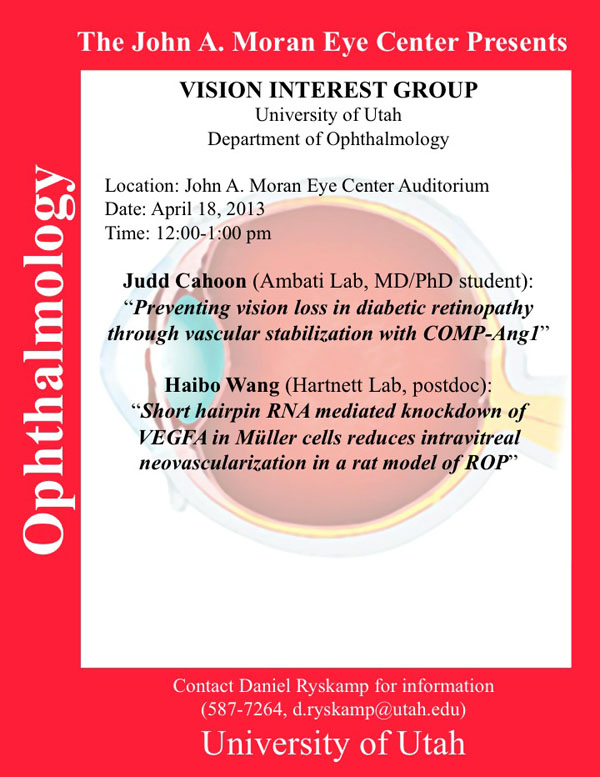 The VIG is designed as a resource for students and post-docs to present their work/research to their contemporaries and all interested parties who wish to attend and participate.
The April VIG at the John A. Moran Eye Center will be held on April 18th from 12:00pm to 1:00pm in the John A. Moran Eye Center auditorium on the 1st floor.
Research Reports:
Haibo Wang, Hartnett Lab, Research Associate: "Short hairpin RNA mediated knockdown of VEGFA in Müller cells reduces intravitreal neovascularization in a rat model of ROP"
Judd Cahoon, Ambati Lab, Postdoc: "Preventing vision loss in diabetic retinopathy through vascular stabilization with COMP-Ang1"
Moderator: Daniel Ryskamp, Grad student from the Krizaj lab.
Pizza is kindly provided by Dr. Robert E. Marc.
Notes about the presentation format:
Research Report presenters should prepare a 15-20 minute long talk to allow for questions and discussion (about 5 minutes) and a few minutes of transition time between talks.
TEP (The Elevator Pitch) talks are short presentations, which should be kept under 15 minutes in length (preferably 5-10 minutes). The more time is left for discussion the better.
Future VIG talks:
May: ARVO / NO VIG MEETING PLANNED
June 20th VIG speakers: @ WEST Moran Auditorium, NOON
Srinivas Rao Chennamaneni, Ambati Lab, Postdoc
Scott Lauritzen, Marc Lab, Postdoc
July 18th VIG speakers: @ WEST Moran Auditorium, NOON
TEP Talk: Brian Stagg, MD resident
Maryam Bijanzadeh, Angelucci Lab, PhD student
August 15th VIG speakers: @ WEST Moran Auditorium, NOON
Aruna Gorusupudi, Bernstein Lab, Postdoc
<OPEN SLOT>
September 19st VIG speakers: @ WEST Moran Auditorium, NOON
Preejith Vachali, Bernstein Lab, Research Associate
<OPEN SLOT>