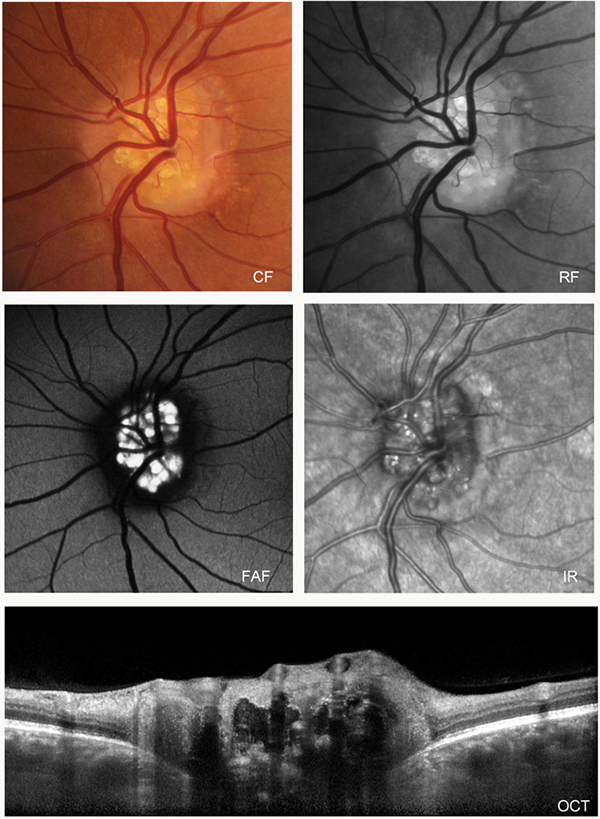 Drusen in the retina is a common finding in aging retina, forming deposits in the retina between Bruch's membrane and the retinal pigment epithelium.  Most people over 40 start to accumulate some drusen, but increasing amounts of drusen formation can indicate pathological developments associated with age related macular degeneration, (AMD).  Cristine Curcio has been chasing mechanisms of drusen formation over the years and has the best model for drusen formation that I've seen.
Optic nerve head drusen (ONHD) or optic disc drusen (ODD) occurs rarely in the population, about 1% of the population, though there seems to be a genetic association as in families with a history of ONHD, it increases to almost 3.5% of those families.
In todays Grand Rounds on Webvision, we have a classic case of ONHD with typical fundus photographs, but also red-free, autofluorescence, IR and OCT captured by James Gilman of the Moran Eye Center.
A color fundus photograph (CF) shows discreet multiple yellowish calcium deposits in the optic nerve head.  The Red-Free photograph (RF) reveals clearer outlines of the drusen.  The Fundus AutoFluorescence photograph (FAF) shows the highly fluorescent drusen in this patient's optic nerve.  The infrared image (IR) shows small discreet reflective bodies in the optic nerve. The OCT image (OCT) shows very dense round inclusions in the optic nerve that shadow the OCT signal and indicate the shallow depth and geographic cluster of the drusen.