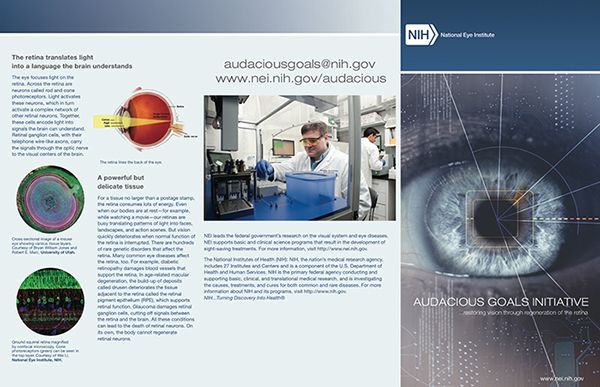 The NIH/NEI Audacious Goals Initiative (AGI) brochure is being distributed to researchers as well as public and private funding agencies and advocacy groups for an effort to fund vision research and vision rescues to regenerate portions of the retina that are lost in disease.
From the brochure: "The AGI began with the Audacious Goals Challenge, a prize competition that challenged participants to imagine the greatest achievement for vision research during the next 10-15 years. The challenge attracted more than 450 innovative proposals from around the world. The NEI consolidated the proposals into six themes, which were further explored by leading experts at the Audacious Goals Development Meeting.
In consultation with the National Advisory Eye Council (NAEC), the NEI chose to pursue the goal of restoring vision through the regeneration of neurons and neural connections in the eye and visual system, specifically targeting the photoreceptors and retinal ganglion cells."
You can download the full resolution brochure in pdf format here.