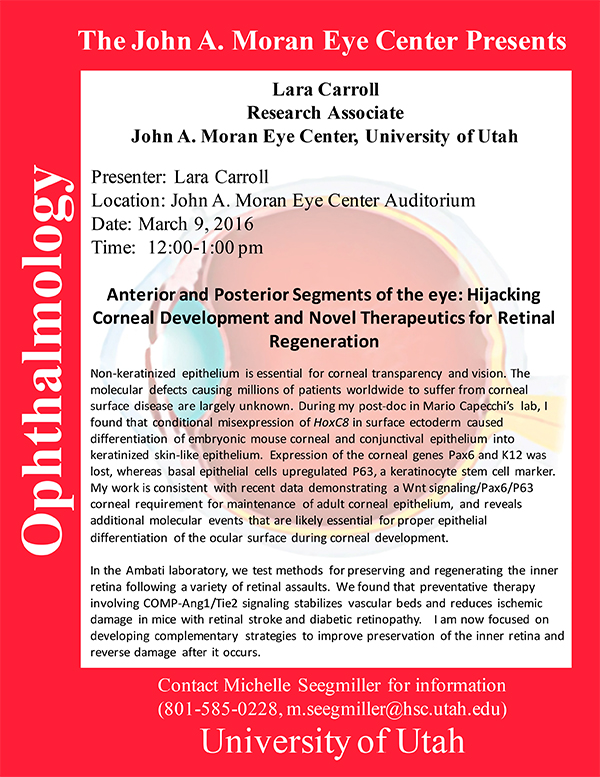 Lara Carroll, who works in the Bala Ambati laboratory will deliver a seminar on Anterior and Posterior Segments of the eye: Hijacking Corneal Development and Novel Therapeutics for Retinal Regeneration, on Wednesday, March 9th in the Moran Eye Center auditorium.
Abstract: Non-keratinized epithelium is essential for corneal transparency and vision. The molecular defects causing millions of patients worldwide to suffer from corneal surface disease are largely unknown. During my post-doc in Mario Capecchi's lab, I found that conditional misexpression of HoxC8 in surface ectoderm caused differentiation of embryonic mouse corneal and conjunctival epithelium into keratinized skin-like epithelium. Expression of the corneal genes Pax6 and K12 was lost, whereas basal epithelial cells upregulated P63, a keratinocyte stem cell marker. My work is consistent with recent data demonstrating a Wnt signaling/Pax6/P63 corneal requirement for maintenance of adult corneal epithelium, and reveals additional molecular events that are likely essential for proper epithelial differentiation of the ocular surface during corneal development.
In the Ambati laboratory, we test methods for preserving and regenerating the inner retina following a variety of retinal assaults. We found that preventative therapy involving COMP-Ang1/Tie2 signaling stabilizes vascular beds and reduces ischemic damage in mice with retinal stroke and diabetic retinopathy. I am now focused on developing complementary strategies to improve preservation of the inner retina and reverse damage after it occurs.