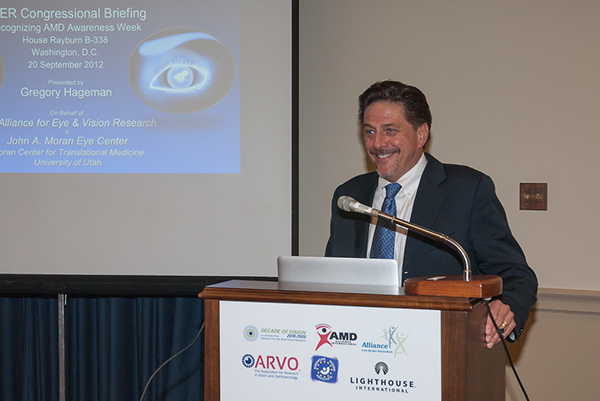 The Moran Eye Center's Dr. Gregory Hageman delivered a Congressional Briefing on September 20th along with the Alliance for Eye and Vision Research (AEVR) and partners AMD Alliance International, Alliance for Aging Research, Association for Research in Vision and Ophthalmology (ARVO), European Vision Institute and Lighthouse International.  Dr. Hageman spoke as part of a Congressional briefing as part of International Age-related Macular Degeneration (AMD) Awareness Week 2012.
Dr. Gregory Hageman, Executive Director of the Center for Translational Medicine (CTM) at the John A. Moran Eye Center at the University of Utah related in his address that AMD consists of multiple biological diseases.  Dr. Hageman continued by expressing that a convergence of clinical, biological and genetic data has led to a stronger understanding of the disease and new hope for the development of diagnostics and therapeutic interventions currently underway.
More details of the briefing are available on the NAEVR website here.